Hi guys!
It's the person in charge of PR! Recently, people around me have been saying, "the longer I stay at home, the cleaner it gets!" That's strange, I've been staying at home all day these days, yet my room isn't getting any cleaner…
Well anyways, I have a major announcement!! Kotobukiya will be participating in an all-new event! It's not just a regular old event; it's an event that you can go to without ever leaving your room! It almost sounds too good to be true…
The name of the event is Virtual Market 4!!!
As the name suggests, this event is a market full of booths held in a virtual space, so you can access it through your computer.
There are a lot of fun features that are set up and you can view and even purchase 3DCG avatars that various creators have made.
There is no entrance fee and you can participate in the comfort of your own home!
I'm super excited to be able to finally share this news with you guys! Be sure to visit while you can!😂
However,
I'm sure there are a lot of you thinking,
"Uuuummmm, SOUSAI SHOJO TEIEN is supposed to be a plastic model. What would it be doing in a virtual space? Even if you told me that it's all going to be online in some sort of virtual reality, what does that even mean?"
(To be honest though, those were my exact thoughts until a product planner who is knowledgeable about 3DCG-related content proposed this event to me…)
So for those who still don't get it yet, let me share the event details in the main article below!
Event Overview
Virtual Market 4
Date: April 29th, 2020 ~ May 10th, 2020
   (Open 24 hours a day)
Entrance Fee: Free
Virtual Market Official Website: https://www.v-market.work/v4/
SOUSAI SHOJO TEIEN Official Website: https://sousaishojoteien.com/(*Japanese)
*A Windows PC with VRChat installed is required to participate.
*A VR device is not required to participate.
---
The "virtual" aspect of this event is so exciting because the event will be held over a longer period of time than many events, and you can access the event at any time of day!
The Kotobukiya booth will look like this!
Don't you love the cute colors scheme of our booth?☺️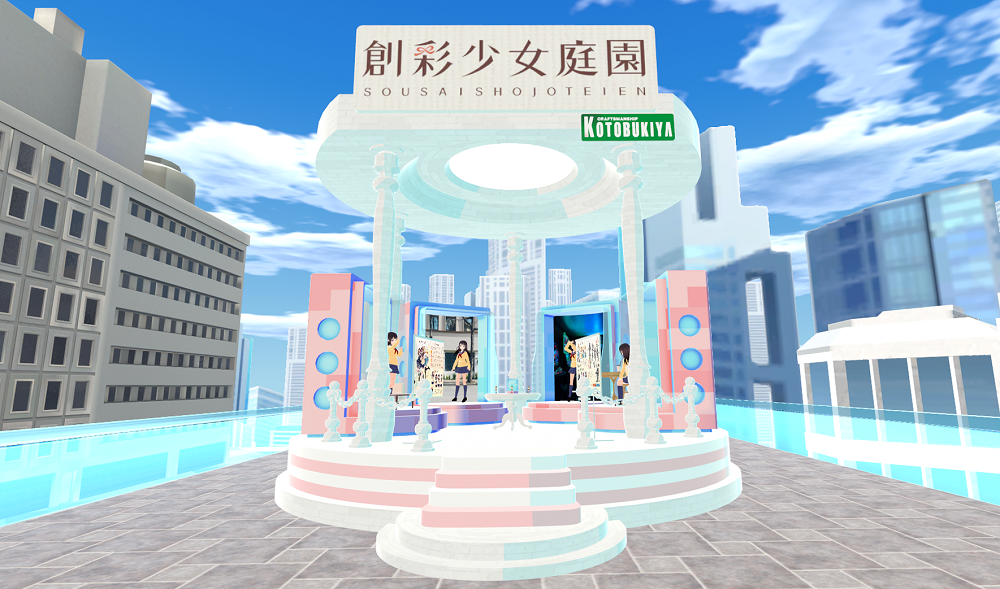 How to Participate
Install VRChat on a Windows PC.
  ⇓
Search "Virtualmarket4" on the VRChat menu and access the event venue.
How to access to VKet through VRChat
Virtual Market 4 is held through the online game "VRChat."
You need to have a Windows PC with VRChat installed to be able to participate in the event.
*VR-compatible devices such as a headset or controller are not required. A Window PC is the only requirement to visit this event.
*VRChat is free of cost to install and Virtual Market 4 is free of admission fees.
When I first heard the proposal, I though, "this is requires VR goggles or something, doesn't it?" But when I heard that you can also join with just a computer, it came as such a surprise! This event is incredibly user-friendly!
However, in order to access the virtual space, the computer will need to meet specific spec requirements, so be sure to check the VRChat official website for more details.
What can you do at the Kotobukiya Booth?
You can enjoy a virtual sample display of Madoka!
A virtual sample of a plastic model… when I first heard that, I could not wrap my head around the idea either.
(Would fans actually enjoy seeing a virtual plastic model?)
(How is it different from seeing pictures of a sculpt?)
But there are features that can only be enjoyed in a virtual space!
The Kotobukiya Booth at Virtual Market 4 will feature plastic models of Madoka rendered in 3DCG models (=virtual samples) on a table.
Guests can pick up the virtual samples to observe the model up close.
Essentially, you can examine the model from any angle.
At normal events, these products are usually displayed in cases, so it is usually hard to see the view from the model's back and examine how the parts are connected together up close.
Also, the products displayed are usually prototypes that are crucial to the manufacturing process, so guests are not usually allowed to touch them. This is frustrating for most guests, I'm sure. However, a virtual space make those worries fly away.
The virtual sample is proportional to the real product, so you can gauge how it would look in real life.
It's a good way to start thinking about and planning how you would play with this plastic model once it has been released!
But, since the sample will be viewed in a virtual space, the graphics are not up to par yet to distinguish the minute details and texture of the material of the model; that is where I think photos are the best to have on hand. Check out Kotobukiya's official website(*Japanese) or the Madoka Yuki article which introduces the sculpt in detail(*Japanese)!
And that's not all! A life-sized Madoka will be waiting to welcome everyone at the booth.
This model is approximately 150cm so after playing with the virtual Madoka sample, this life-sized model may surprise you with how much bigger she looks up close!
Also, be sure to set the virtual sample on the designated stand to change the life-sized Madoka's hairstyle. You can enjoy the various hairstyles of SOUSAI SHOJO TEIEN before the launch of this new series!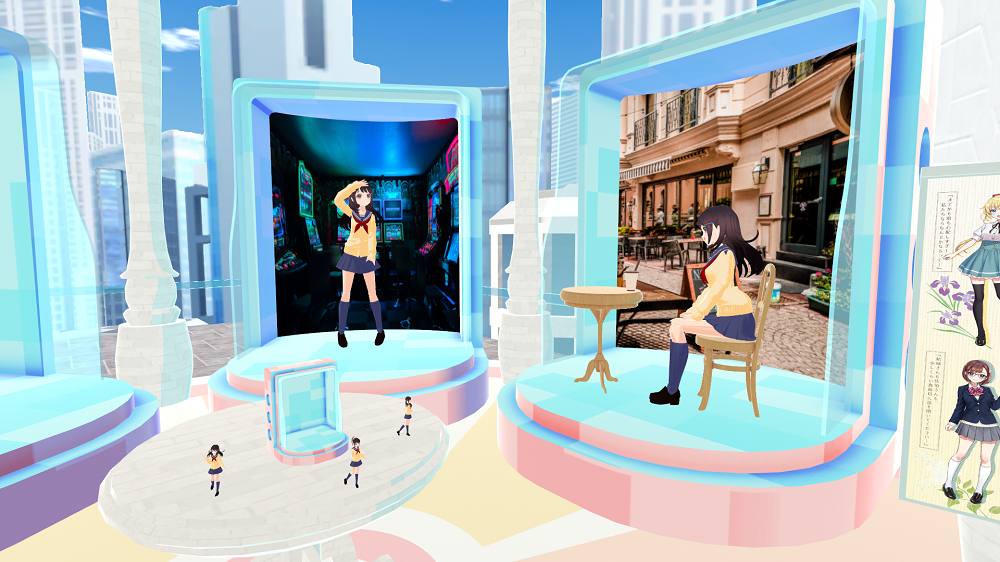 By the way, be sure to check out what happens when you approach the life-sized Madoka!!
Fans will be sure to enjoy this booth in all of its entirety, especially with how COMPLETELY different the displays look compared to our other events.
---
That's all for my introduction of Virtual Market 4!
This is the first time that Kotobukiya will be participating in a virtual event, so there were probably parts of my explanation that were difficult to understand. But I hope that I was still able convey how exciting this event will be……!
Be sure to fill your Golden Week with doses of Virtual Market 4!!
Looking forward to seeing you all there!!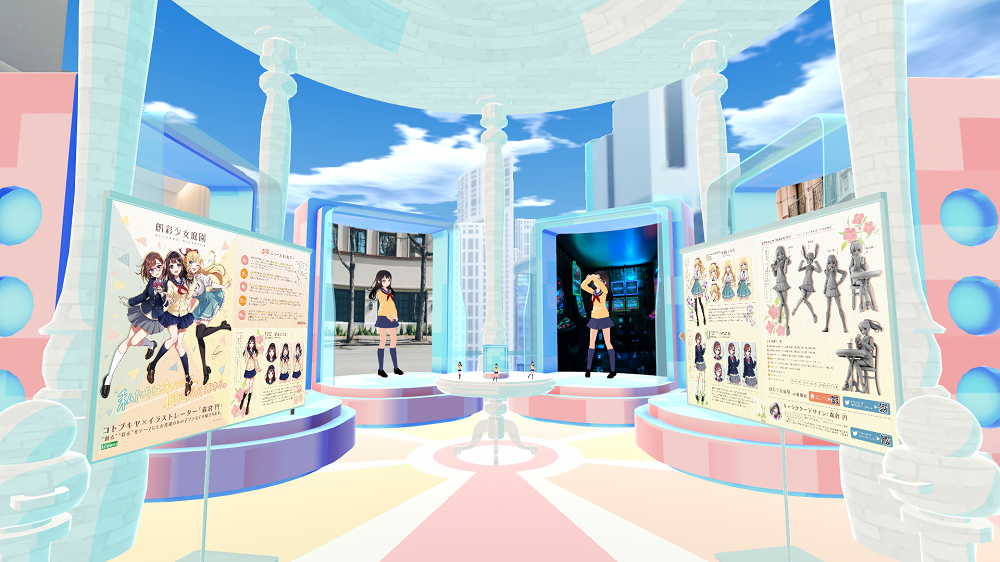 (*Japanese)
Character design: En Morikura
© KOTOBUKIYA