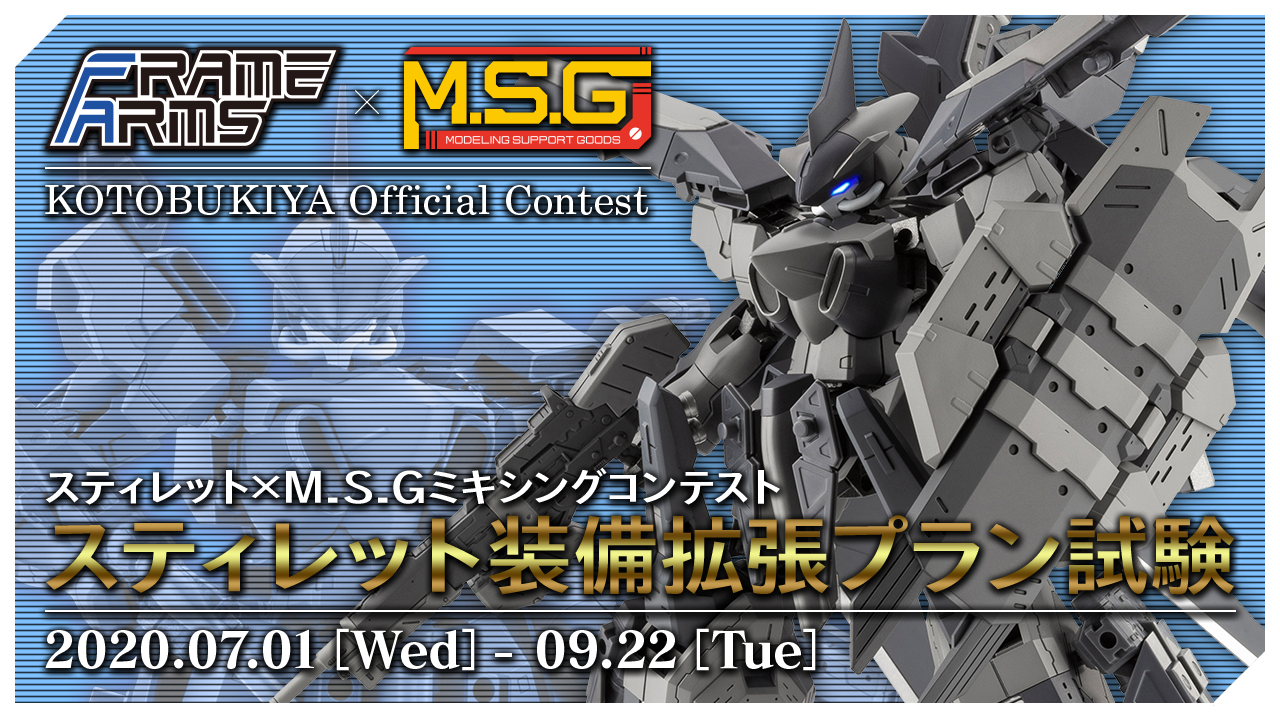 This is the entry regulation page for STYLET Equipment Expansion Exam (STYLET x M.S.G. Building Contest).
1. Basic Contest Rules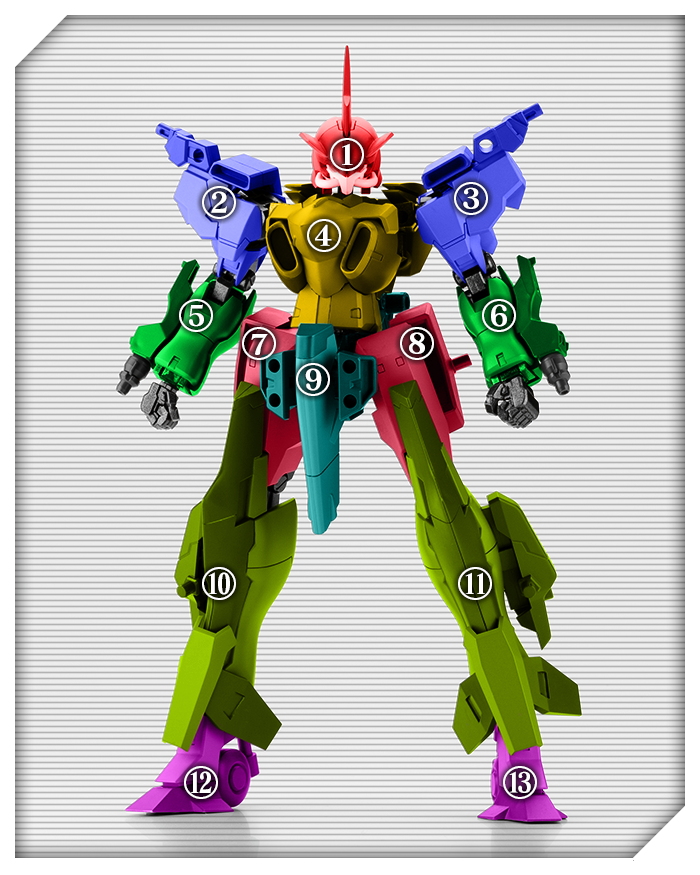 *For details on each block, please refer to section 3: "Assembly and Customization".
Definition of "Change"
【Accepted "Changes"】
【Not Accepted "Changes"】
Adding parts to the blocks that are to be kept unchanged.
Inserting parts between blocks on the Stylet such as a drum joint in between 3) Left Shoulder and 4) Chest.
Replacing the joints on the neck, wrist, elbow, knee, and ankles with other joint sets or parts.
 *Joint sets can be used to extend the length of a joint.
2. Standards for Painted and Unpainted Products
Painting Standards
Only "Light Gray", "Dark Gray", and "White", which are listed in the "SA-16Ex STYLET MULTI WEAPON EXPANSION TEST TYPE" instruction manual can be used for painting.
Only "Gun Metallic" can be painted on FRAME ARCHITECT TYPE001.
The camera eye can be painted only when "M.S.G Customized Head" is used as a head part (no set color is specified). The rifle scope and other parts may not be painted.
The usage of ink is allowed.
Weathering and shadowing are not allowed.
*Painting of any color or location other than what is stated above is a violation of regulations.
Parts that can be used Unpainted
【Parts that can be used unpainted】
【Parts that can be used after painting】
M.S.G parts that do not have monotone color schemes

can be used after being painted in

"Light Gray", "Dark Gray", or "White"

based on the color recipe written in the instruction manual for SA-16Ex STYLET MULTI WEAPON EXPANSION TEST TYPE.
*If parts such as "Gigantic Arms 01 Powered Guardian" or the various "Weapon Unit 06EX Samurai Master Sword" are used without painting, it will be considered as a violation of regulation regardless of the size of the part.
3. Assembly and Customization
The main concept of this contest is to build an original model through attaching various M.S.Gs on a STYLET.
When assembling and reassembling, please note the following points.
Block Details
(1) Head

(2) Right Shoulder

(3) Left Shoulder

(4) Chest
(5) Right Forearm

*Use your favorite shape for the tips of the hard point units.
(6) Left Forearm

*Use your favorite shape for the tips of the hard point units.
(7) Right Thigh

(8) Left Thigh
(9) Waist

*The joint connecting the thighs and waist blocks can be adjusted up and down.
(10) Right Calf

(11) Left Calf

(12) Right Toe

(13) Left Toe

We've also created a supplementary blog with some examples to help you better understand the rules.
STYLET Equipment Expansion Exam Examples of Regulation Violations (*Only in Japanese)
Feel free to refer to the above blog post for your reference.
Use of Various Adhesives
Adhesives used only for "joint erasing" and "joint fitting adjustment" are allowed.
*Adhesion of parts on areas in which they are not already connected through joints is considered a regulation violation.
Other Items That Can Be Used Besides SA-16Ex STYLET MULTI WEAPON EXPANSION TEST TYPE and M.S.Gs
Various decals that came with Frame Arms and M.S.Gs.
Various "Extended Hardpoints".
*Frame Arms Girl products like "Frame Arms Girl Weapon Set" cannot be used.
Accepted Display Bases
Only the various M.S.G bases can be used as display bases for photographing your work.
If using a flying base that includes bonus printed designs, only the Frame Arms Logo Print Ver. is allowed to be shown.
Assembly and Customization Regulation Violation Examples
The use of parts from Frame Arms or any other title besides SA-16Ex STYLET MULTI WEAPON EXPANSION TEST TYPE
Use of products by other companies
The use of plastic and putty for models, metal parts, as well as homemade parts, including 3D printers
Cutting parts outside of the gate, or gluing parts outside of the connection points of the product
4. Regarding the Use of Runners (Bar-Shaped Part)
Runners (bar-shaped parts) can only be used as connection parts only if it is not exposed on the model (recommended length: 5 mm to 1.5 cm).
* All other uses are in violation of the regulations.
5. Submitting Your Entry
Please submit your entry through the special contest website linked through the banner below.

*Jump to the contest website (written in Japanese).
*The contents of this regulation page are subject to change without notice.
© KOTOBUKIYA