Hi everyone, it's SHO-GUN (^◒^)(@kikakuguys)
Phoenix Rebirth from the MARVEL BISHOUJO series is now available for pre-order in an all-new limited edition variant! 
Keep reading to learn more about this special edition statue that is only available from select stores worldwide. 
゜・。.:*MARVEL PHOENIX REBIRTH LIMITED EDITION BISHOUJO STATUE。.:*・゜
SRP: $129.99
Month of Release (in Japan): October 2020
This new variant of Phoenix is not just a color variant of MARVEL DARK PHOENIX REBIRTH BISHOUJO STATUE that was released earlier this month. This statue comes with completely new face and arm parts to make this statue stand out! 
Here are just some of the unique differences between the Dark Phoenix Rebirth and all-new Phoenix BISHOUJO statues. ♪
About the BISHOUJO Series
Kotobukiya's BISHOUJO series is a popular collection of fictional characters redesigned by the famous Japanese illustrator, Shunya Yamashita (@ShunyaYamashita), into the Japanese bishoujo (meaning "beautiful young woman") style.
Much like Dark Phoenix Rebirth, this is the second rendition of Phoenix in the BISHOUJO style!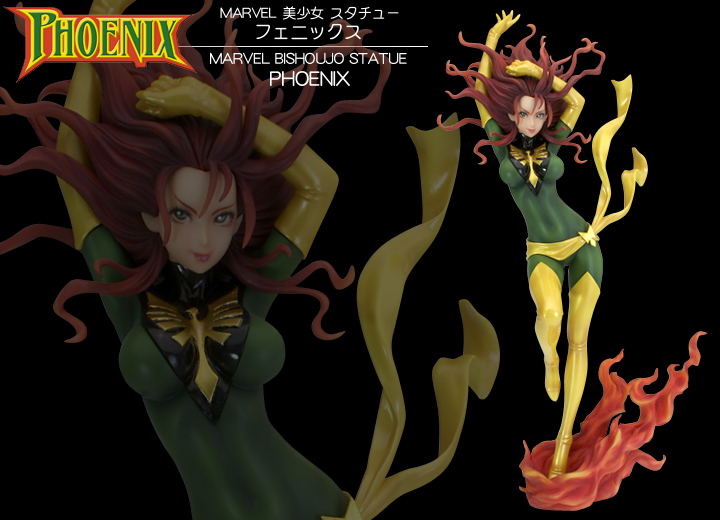 ゜・。.:*MARVEL BISHOUJO PHOENIX゜・。.:*  (Japanese)
Month of Release (in Japan): June  2010
It has been 10 years now since the release of the original Phoenix BISHOUJO statue!
Be sure to get your hands on this new Phoenix statue variant to compare the improvements in sculpting and painting throughout these past ten years.  
Difference Between Phoenix and Dark Phoenix Rebirth BISHOUJO Statue


Behold the beauty of these two statues side-by-side. 
The new Phoenix Rebirth BISHOUJO is designed with a more gentle look to contrast with the ominousness of the Dark Phoenix Rebirth statue! 


Look closely at the shape of the hands. 
Much like a true phoenix, Dark Phoenix Rebirth looks as though she has come to life from the depths of the flames, while Phoenix Rebirth looks like she is landing into a bed of flames.


The facial expressions of each statue also contrast one another. 
While one can be seen with furrowed brows and eyes full of indignation, the other can be seen with a soft gaze staring off into the distance.
Despite both mouths being closed, you can clearly see the difference between the tightly closed mouth and the soft smile of the other.
And, of course, you can't miss the difference in eye color with the "Phoenix Force" manifesting itself in one, and the standard Phoenix in the other.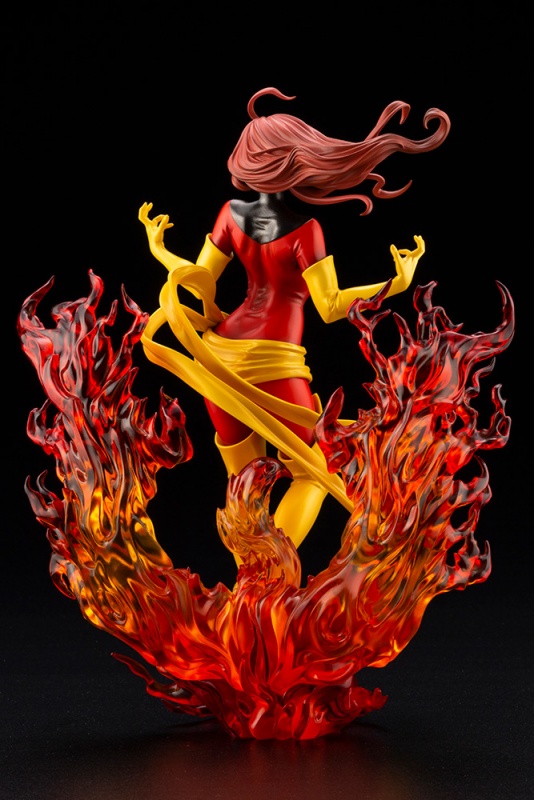 Also, be sure to check out the difference in the coloration of the Phoenix Force! 
While one is painted in a dark crimson color to showcase a fire that consumes everything, the other resembles a softer flame that envelops and warms everything.
You can really see the subtleties and differences in design when you line them up next to one another. 
MARVEL PHOENIX REBIRTH LIMITED EDITION BISHOUJO STATUE IS ONLY AVAILABLE AT SELECT STORES AND IN LIMITED QUANTITIES!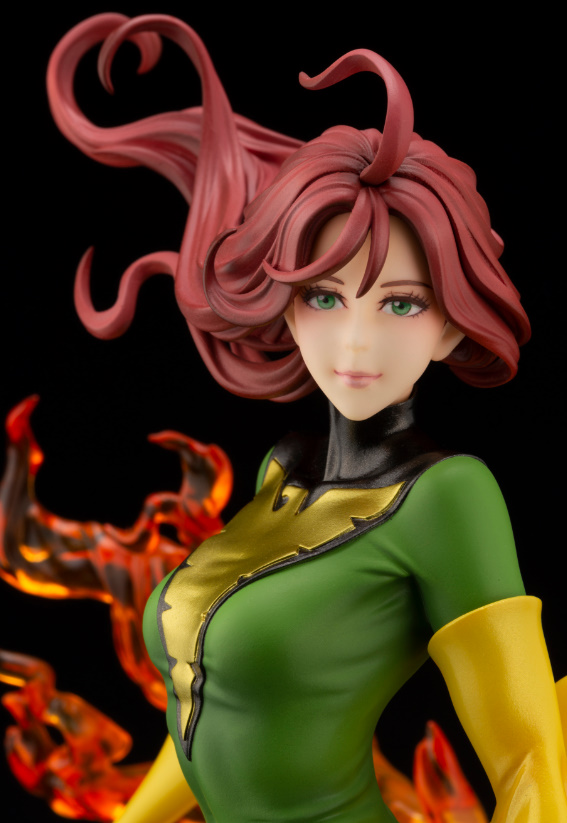 PRE-ORDERS ARE ONLY AVAILABLE FOR A SELECT TIME!
(Japanese: Pre-orders are open until Friday, 6/19!
**All Kotobukiya products produced are based on the number of pre-orders.**
Depending on the number of pieces available, pre-orders may sell out at certain retailers.)
**The PREVIEWSworld exclusive Phoenix Rebirth BISHOUJO Statue is now available for pre-order at your favorite comic book and collectibles retailers!**

MARVEL PHOENIX REBIRTH LIMITED EDITION BISHOUJO STATUE

MARVEL DARK PHOENIX REBIRTH BISHOUJO STATUE
Thanks for reading! ♪
Sincerely, 
SHO-GUN
© 2020 MARVEL