Hi everyone, it's SHO-GUN (^◒^)(@kikakuguys). 
With some of our DC COMICS BISHOUJO reproductions to be released very soon, I wanted to share some special product sample photos! 
But before we get to the main part of the article, I wanted to address a few comments and questions we have been receiving from some of our fans. Please read on!   
About BISHOUJO Reproductions
When we release a BISHOUJO with "2nd Edition" in the name, it can refer to one or more of the following updates from the original production (aside from price). 
・Change in package design
・The base or a part of the figure has been slightly altered
*In certain situations, we may release a product with no updates. 
Many reproductions that we produce do not undergo any spec changes. However, with BISHOUJO statues, we attempt to add at least one new feature or change from the original production.
We at Kotobukiya have read many user comments about some of our reproduction items. We cherish all BISHOUJO fans both new and old, and we want to create an opportunity for newer fans of this franchise to get their hands on BISHOUJO statues that they may have missed out on in the past without having to pay increased pricing on the secondary market. This is also our way of acknowledging fans who purchased the first release by making identifiable production changes in an effort to retain the value of these collectibles.
Reproducing older products leads to new fans and new opportunities. With the continued support of our fans, we are able to continue expanding our BISHOUJO Series. 
Thank you for all of your support! We look forward to bringing you more new characters and additions to the ever-expanding BISHOUJO lineup!  
Sincerely, 
BISHOUJO Series Concept Team
DC COMICS BISHOUJO Reproductions Available This Summer!  
Now, without further ado, let me introduce you to the four DC COMICS BISHOUJO reproduction statues that will be released this summer!
The oldest of the bunch was originally produced and released to the public seven years ago! Be sure to add them to your collection! 
In this roundup of reproduction products, the package design and base have all been updated. All of the bases have been completely repainted with a new metallic design! 
゜・。.:DC COMICS ARMORED WONDER WOMAN 2nd Edition BISHOUJO STATUE*.:*・゜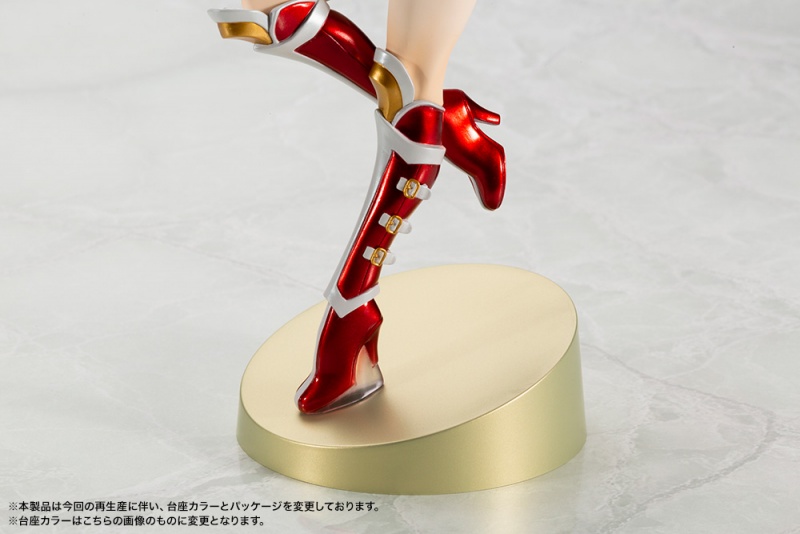 Wonder Woman's base now comes in metallic gold rather than clear blue!
゜・。.:*DC COMICS HUNTRESS 2nd Edition BISHOUJO STATUE.:*・゜
Huntress' base now comes in metallic grey with a hint of purple!
゜・。.:DC COMICS HARLEY QUINN NEW52 ver. 2nd Edition BISHOUJO STATUE*.:*・゜
Harley Quinn's base design was kept the same, but now comes with an all-new metallic finish! 
゜・。.:DC COMICS BLACK CANARY 2nd Edition BISHOUJO STATUE*.:*・゜
Black Canary's base also comes in the same color as the original, but with a new metallic finish! 
 ☆Be sure to pre-order before it's too late!☆
**All Kotobukiya products produced are based on the number of pre-orders.**
Depending on the number of pieces available, pre-orders may sell out at certain retailers.
 Check with your local retailer for further details!

BISHOUJO Series Official Website is Now Open!  
Other BISHOUJO Statues

IT (2017) PENNYWISE BISHOUJO STATUE

MY LITTLE PONY APPLEJACK BISHOUJO STATUE

MARVEL PHOENIX REBIRTH LIMITED EDITION BISHOUJO STATUE
Thanks for reading! ♪
Sincerely, 
(^◒^)SHO-GUN(^◒^)
JUSTICE LEAGUE and all related characters and elements © & TM DC Comics. (s20)