Hello everybody. I am Zarame, a product planner for Kotobukiya.

From the manga Witch Hat Atelier, which is currently running in manga magazine Monthly Morning Two, is an all new 1/8 scale figure of the protagonist, Coco. 
〇o●o〇●o〇o●o〇●o〇o●o〇●o〇o●o〇●o
Magic is what makes the impossible possible. 
Japan Month of Release: June 2020 
SRP: $179.99 USD
Sculptor: HIDE, Yoshihiro saimaru
〇o●o〇●o〇o●o〇●o〇o●o〇●o〇o●o〇●o
The official announcement and sculpt of Coco that was first showcased at Wonder Festival 2019 [Summer] is now available for pre-order! 
First of all, take a look at the entire figure! (Click each photo to look at the details up close.)
I was so excited to show you guys the paint master… it was super hard to wait this long…( ´꒳` )
This figure came out as an art piece that can be enjoyed from 360 degrees.
The sculpt was based on illustration by Kamome Shirahama. 
The armillary sphere itself was such a difficult item to turn into a figure, so we spent a lot of time and effort into figuring out which part of the sphere should be made first.
The wrinkles and flow in the fabric of Coco's dress are all parts of the figure we want fans to take notice. 
This highly detailed figure perfectly captures the design and essence of Kamome Shirahama's illustration and has been fully checked and approved by the artist.
This figure has been painted to replicate the sepia world that can be seen in Witch Hat Atelier, and has been painted with an almost faded tint to the overall coloration (imagine a yellow light being lit in front of the figure). 
The hair looks slightly more yellow than her normal hair color, but this is because I wanted to make the color yellow stand out.
Flash a light on this figure, and it will look something like this…! 
The armillary sphere and the other tiny accessories that decorate this model have been made to give this figure an overall antique feel. 
Multiple variations of gold paint have been used to create a realistic balance of colors and depth.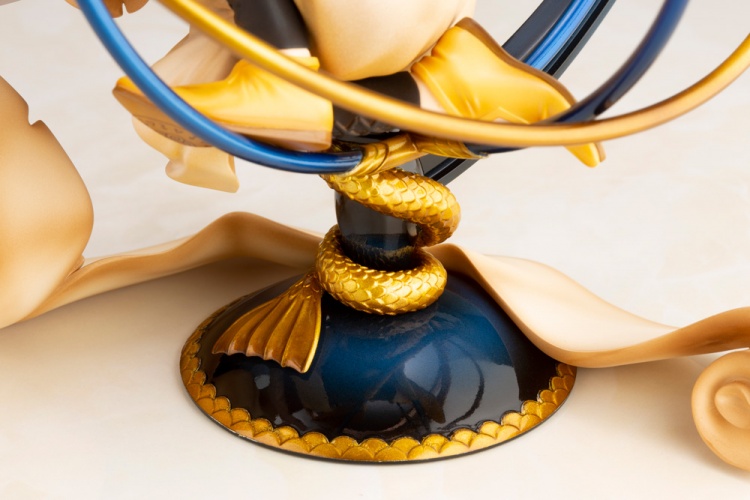 The base of the armillary sphere has been painted to look like real porcelain. So shiny! 
The charm of the painting and details can't be fully expressed in photos, but I would love for the fans to see this figure in person…
The softness of the Fudemushi has been depicted by the fine details in the sculpt as well as the use of a clear plastic to give it that fluffy look despite it being a solid object. 
When you shine a light on the Fudemushi, the light slightly seeps through, giving it the fur that looks like a real living creature.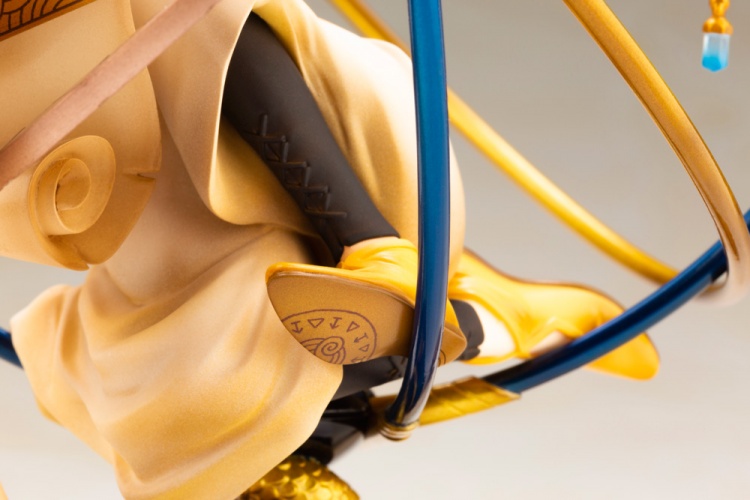 A magic circle was also added to the sole of Coco's shoes!
And the magic circle that Coco drew is also fully replicated. 
ON TOP OF ALL THAT! 
Customers who pre-order this product through select Kotobukiya distributors/retailers will be able to receive a free Kamome Shirahama shikishi (picture board), complete with all new original artwork!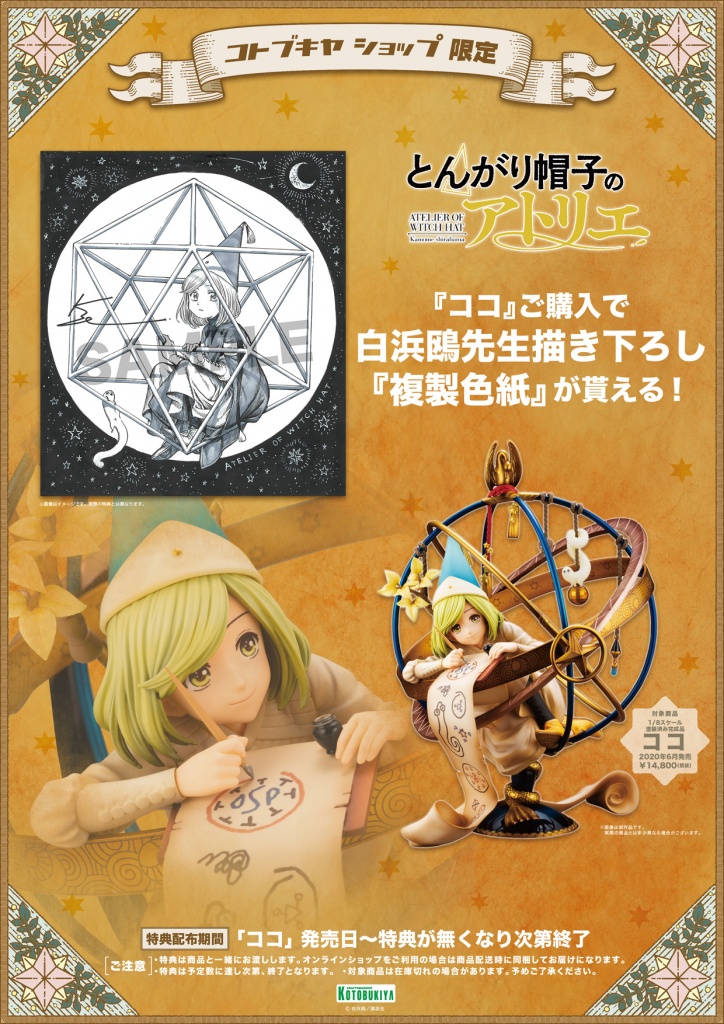 ※Pre-order bonus is only available while supplies last. 
The artwork on the shikishi is completely new artwork that Kamome Shirahama drew in commemoration of this figure! 
The shikishi is 240mm x 265mm in size! 
This shikishi is only available through select Kotobukiya distributors/retailers, so be sure to check with your local retailer before ordering! △ Enjoy the artistic quality in both the figure and the shikishi! 
〇o●o〇●o〇o●o〇●o〇o●o〇●o〇o●o〇●o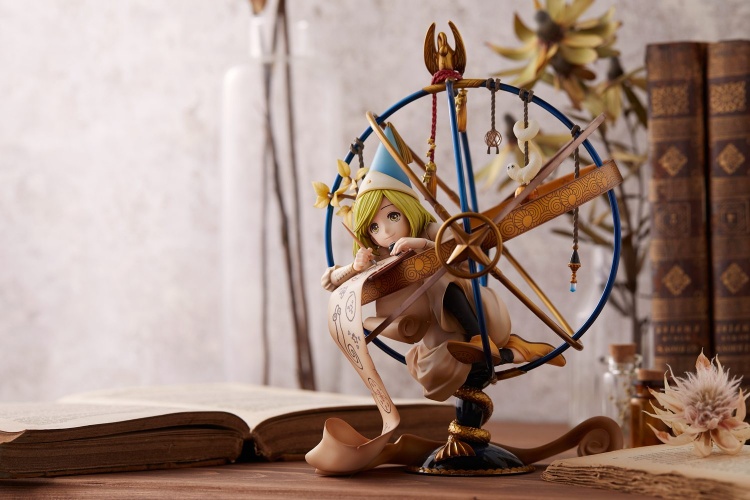 What do you guys think about this figure? 
Coco is available for pre-order now, so be sure to get your orders in before it's too late! 
※DISCLAIMER※
Pre-orders close based on retailer product availability. To secure your order, be sure to pre-order early so as to avoid missing the pre-order deadline! This product is available only while supplies last.
©Kamome Shirahama / Kodansha Ltd.
*Prototype shown. Final product may vary.
*Image colors may vary depending on your display.